Cyberwarfare / Nation-State Attacks , Fraud Management & Cybercrime , Information Sharing
WatchGuard's 2022 Cybersecurity Predictions
State-Sponsored Mobile Threats, Space-Related Hacks and More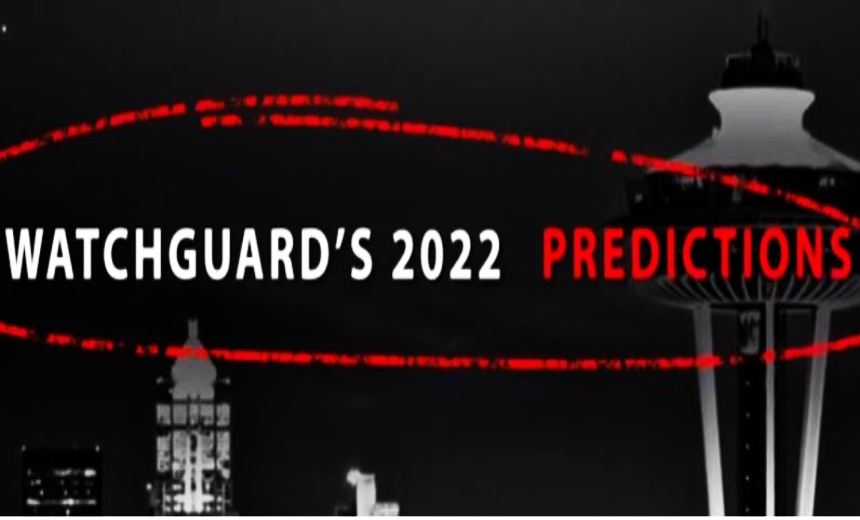 Every year, the WatchGuard Threat Lab team likes to dust off the crystal ball and predict how cyber threats will evolve next year. Last year, we made a variety of predictions including the rise of spear phishing campaigns driven by automation, a revolt over smart device privacy, attacks swarming VPNs and RDPs, and more – many of which came true. But as we put 2021 in the rearview mirror, it's time to make our annual cybersecurity predictions for 2022. This year, the team tried to infuse some humor into the predictions, so if you'd like to watch the "SNL Weekend Update" parody videos of these predictions, click through here. Now without further ado, let's dive into some of the predictions.
See Also: AWS Security Foundations: For Dummies
Companies Increase Cyber Insurance Despite Soaring Costs
According to a report from S&P Global, cyber insurers' loss ratio increased for the third consecutive year in 2020 by 25 points, or more than 72%. This resulted in premiums for stand-alone cyber insurance policies to increase 28.6% in 2020 to $1.62 billion USD. As a result, they have greatly increased the cybersecurity requirements for customers. Not only has the price of insurance increased, but insurers now actively scan and audit the security of clients before providing cyber security-related coverage.
Where legitimate users go, malicious cybercriminals follow.
In 2022, if you don't have the proper protections in place, you may not get cyber insurance at the price you'd like, or at all. Like other regulations and compliance standards, this new insurer focus on security and auditing will drive a new focus by companies to improve defenses in 2022.
News of Hackers Targeting Space Hits the Headlines
With renewed government and private focus on the "Space Race" and recent cybersecurity research concentration on satellite vulnerabilities, we believe a "hack in space" will hit the headlines in 2022.
Recently, satellite hacking has gained investigative attention from the cybersecurity community among researchers and at conferences like DEF CON. While satellites might seem out of reach from most threats, researchers have found they can communicate with them using about $300 worth of gear. Furthermore, older satellites may not have focused on modern security controls. Don't be surprised if we see a space-related hack in the headlines soon.
Spear SMSishing Hammers Messenger Platforms
Text-based phishing, known as SMSishing has increased steadily over the years. Like email social engineering, it started with untargeted lure messages being spammed to large groups of users, but lately has evolved into more targeted texts that masquerade as messages from someone you know. In parallel, the platforms we prefer for short text messages have evolved as well. Users, especially professionals, have realized the insecurity of cleartext SMS messages thanks to NIST, various carrier breaches, and knowledge of weaknesses in carrier standards like Signaling System 7 (SS7).
Where legitimate users go, malicious cybercriminals follow. As a result, we are starting to see an increase in reports of malicious spear SMSishing-like messages to messenger platforms like WhatsApp. We expect to see targeted phishing messages over many messaging platforms double in 2022.
To read more about all WatchGuard's 2022 predictions – including State-Sponsored Mobile Threats and Password-Less Authentication – and to watch some hilarious parody videos, click here.